fonte articolo e foto – rollingstone.it – redazione.
Il cartellone del festival torinese si arricchisce di altre quattro proposte affascinanti e internazionali, dal soul funk britannico fino alla techno rumorista tutta italiana.
Ogni anno, a novembre, Torino si riempie di beat e suoni innovativi. È tutta colpa di Club to Club, il festival italiano dedicato all'elettronica e all'avant-pop più sperimentale: quella del 2017 sarà la 17esima edizione e porterà il nome di Cheek to Cheek. Dopo gli annunci delle scorse settimane, quest'oggi il cartellone del festival si è ulteriormente ingigantito con Powell, i Jungle, Bill Kouligas e Shapednoise.
Anche in questo caso l'offerta è ricca ed eterogenea: Powell è uno degli artisti più imprevedibili della scena elettronica britannica, il suo nuovo set è accompagnato dalle immagini di Wolfgang Tillmans, il fotografo tedesco che ha collaborato con i Pet Shop Boys e Frank Ocean; anche i Jungle vivono da quelle parti, ma sono un collettivo. Il loro esordio del 2014 ha conquistato critica e pubblico grazie al suo mix di soul, funk e disco.
Bill Kouligas, invece, arriva direttamente da Berlino: è lì che ha fondato la sua etichetta PAN (Lee Gamble e Yves Tumor vi dicono niente?) e perfezionato il suo approccio contemporaneo alla grafica, al video e all'elettronica. Infine l'ultimo nome, questa volta tutto italiano: Shapednoise produce musica affilata, avvolgente, con spunti vicini alla techno rumorista; pare che Aphex Twin sia un fan.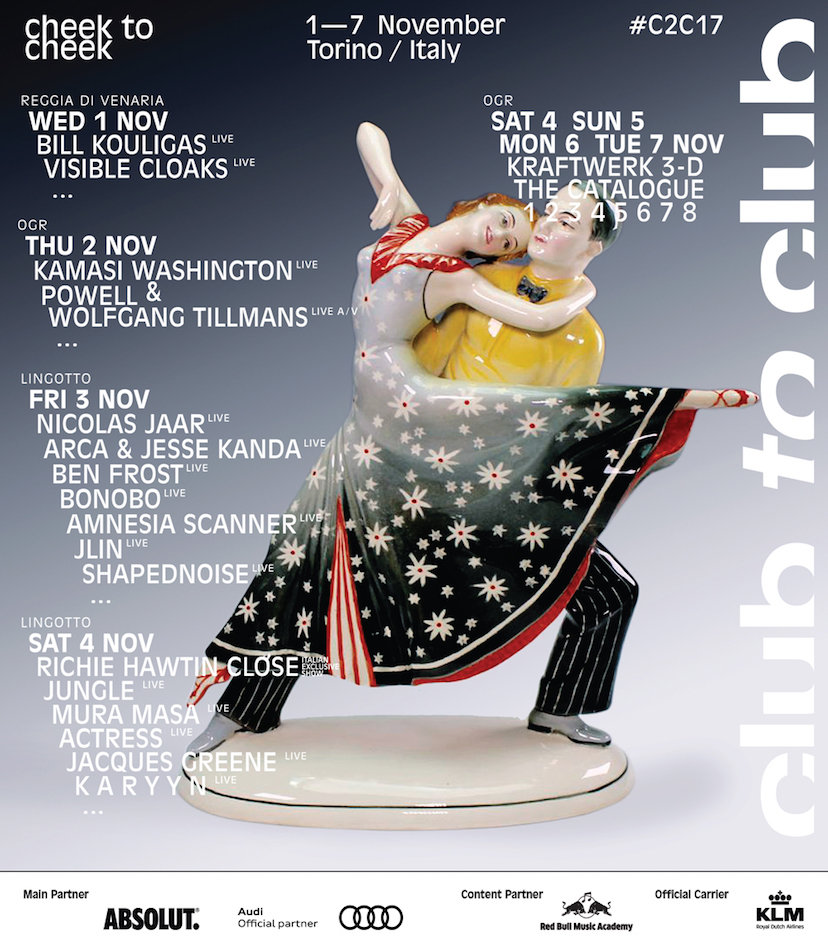 I nuovi artisti annunciati si uniranno alla line-up enorme del festival, che potete spulciare qui sotto nel programma giornaliero:
Mercoledì 1 novembre // Reggia di Venaria
BILL KOULIGAS live
VISIBLE CLOAKS live – Italian debut
Giovedì 2 novembre // OGR Torino
KAMASI WASHINGTON live
POWELL & WOLFGANG TILLMANS live A/V – Italian debut exclusive
Venerdì 3 novembre // Lingotto
NICOLAS JAAR live
ARCA & JESSE KANDA live – Italian debut exclusive
BEN FROST live
BONOBO live
AMNESIA SCANNER live
JLIN live
SHAPEDNOISE live
Sabato 4 novembre // OGR Torino
KRAFTWERK – Autobahn (1974)
KRAFTWERK – Radio-Activity (1975)
Sabato 4 novembre // Lingotto
RICHIE HAWTIN CLOSE live – Italian debut exclusive
JUNGLE live
MURA MASA live – Italian exclusive
ACTRESS live
JACQUES GREENE live
K A R Y Y N live – Italian debut exclusive
Domenica 5 novembre // OGR Torino
KRAFTWERK – Trans Europe Express (1977)
KRAFTWERK – The Man-Machine (1978)
Lunedì 6 novembre // OGR Torino
KRAFTWERK – Computer World (1981)
KRAFTWERK – Techno Pop (1986)
Martedì 7 novembre // OGR Torino
KRAFTWERK – The Mix (1991)
KRAFTWERK – Tour de France (2003)